---
Some of our strategists and designers touch on what they found most valuable at this year's Service Design Canada conference.
---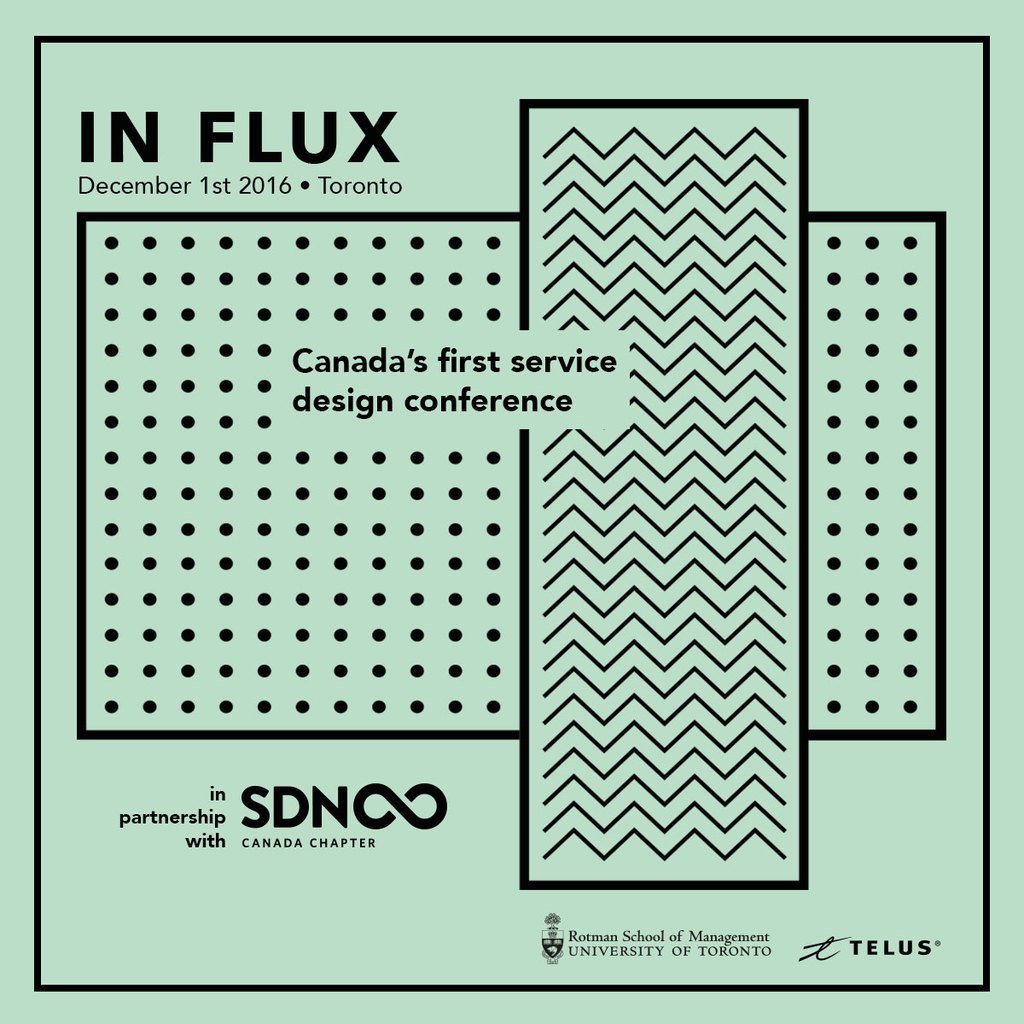 On December 1st, Rotman School of Management opened its doors to Canada's first ever Service Design Conference – IN FLUX. The day was built around exploring the concept of IN FLUX from a number of perspectives – from people IN FLUX to institutions IN FLUX through a series of talks and workshops. Naturally, we took this as an opportunity to leave the office and put on our learning hats.
User Research Tools & Methods
During the People IN FLUX section of the day, two presenters from Doblin, Janice Wong and Sarah Reid, talked about digital cultural probes, a method originally developed by Bill Gaver, professor of Design and co-director of the Interaction Research Studio at Goldsmiths, University of London.
After recruiting their test candidates (using standard screening protocol), Doblin engages their research group on WhatsApp to begin a conversation. Participants are given a prompt (e.g. share what you're thinking when you think about your finances on a day-to-day basis) and encouraged to message their handlers throughout the course of the week (at any hour).
The idea is to conduct research by "interviewing" people on their own time and in their own manner through methods like structured journaling in a Google doc, texting, and sending voice recordings. It's a more informal form of user research, but the idea is to make people feel more comfortable with sharing insights by approaching them in a more "natural" way. The team would engage a participant for periods longer than the standard interview — spanning between a couple of days to a couple of weeks — allowing them to contribute their thoughts anytime throughout the day.
Each day, the Doblin team would review the messages and create a reflection exercise for their participants in the form of 2-3 questions shared via Google Docs. These exercises would allow the Doblin team to probe further into specific areas of interest. Throughout the week, the team would conduct interviews with participants and use the collection of reflection exercises and other assets collected via WhatsApp to deep dive into user behavior. One example of a probe Wong and Reid did for a banking client was asking participants to take pictures of everything they purchased for an entire week and asking them to walk the interviewers through the reasoning behind each purchase, even if it was a single banana from Shoppers Drug Mart.
The relationship that you build with a participant over an extended length of time can be very valuable to the research for two reasons: 1) You're giving participant room to become comfortable and to share when it's more meaningful to them; and 2) After having developed a more comfortable relationship with the testing group, participants may feel more invested and more willing to help out down the road during user testing.
Managing the Stakeholder Relationship
Managing the stakeholder relationship is a perennial problem that a lot of designers face. This relationship can be especially problematic when the product owner (in an agile environment) is weak and ineffective or continually being overruled by their superiors. The topic was touched upon by multiple speakers who all had their own tips and tricks to make this relationship more effective. The two that stood out the most were by Jason Fiske from Farm Credit Canada and Elizabeth Turcotte from Bristol-Myers Squibb:
Involve stakeholders early and often (Fiske)
Co-design with stakeholders (Turcotte)
From previous experience, we've found that getting stakeholders to contribute as early and often as possible is a great way to get buy-in. Stakeholders who were part of the process from the get go feel like they have contributed in a meaningful way and are less likely to become bottlenecks, later on. This is where co-designing also plays an important role. During the Q&A session, Turcotte pointed out that these sessions can be tough, but are absolutely necessary to gain effective insight and buy-in. The best way to make them work is to get stakeholders to trust in the process and help them become comfortable with being a little uncomfortable. Eventually, everyone winds up feeling more comfortable with the process.
Common Language
At The Art of Stakeholdering workshop there was a short and sweet activity that reminded me about the importance of establishing a commonly understood language — internally with our teams and externally with our stakeholders. It was a simple task: about a dozen cards were laid, face down, on the table and we were instructed to flip one over, one-by-one, as a group. The cards each had common words printed on them – words like sprint, user testing, MVP, and agile. But, when we began discussing each word's meaning, it became clear that while we were all trained professionals in the industry, we all had slightly different understandings of the vocabulary and processes. Some of those simple misunderstandings that can result from our divergent views have the capacity to dramatically and negatively impact communication with our stakeholders — leading to misalignment due to simple vocabulary confusion. For example, not understanding what an MVP is will result in major misalignment on project outcomes.
Taking an hour during a project kickoff to clearly define key project vocabulary can help prevent potential misunderstandings with the client down the road. Making sure we're "speaking the same language" is the best foundation for a good client relationship and is something we work hard to maintain.
Our team walked away from the conference with quality learnings and inspiration. Combing through everyone's notes, it's clear that many of us were fascinated by similar things and are itching to incorporate something new into our best practices such as Wong and Reid's user research technique. The most significant learning we came away with, however, is that while some projects might come close to a perfect painless process, most don't. All we can do is keep on fighting for a better connection with the people for whom we design — keep on focusing on the end user.
Design