Develop. Educate. Empower. A Capital One Tech Jammer's experience: Bridging the gap of technical expertise and charities with limited resources.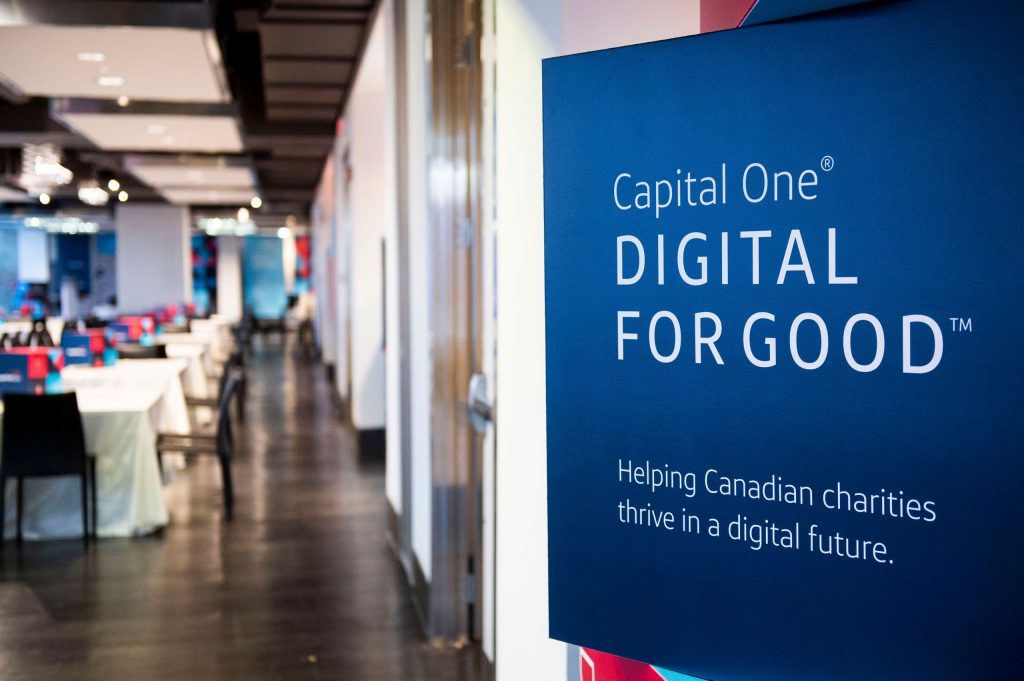 It was December 2018 when I was talking with my coworker and future teammate Saeed Alam about his past experience at Capital One's Digital for Good (formally Gift the Code). I was immediately drawn to the idea as this hackathon was different. I could help create solutions for real charities with real missions for powerful purposes. I knew this was something I wanted to be apart of.
In September 2019, Saeed and I set out and organized an amazing team of six to represent Architech. This included Meg Bortolon, Karen Tran, Ling Xing, and Abhishek Wadhwa. We were a passionate group with a diverse set of skills ranging from UX research and UX/UI design to full-stack software engineering. We were very excited to learn we would be working with the Children's Aid Foundation of Canada to tackle a challenging awareness problem.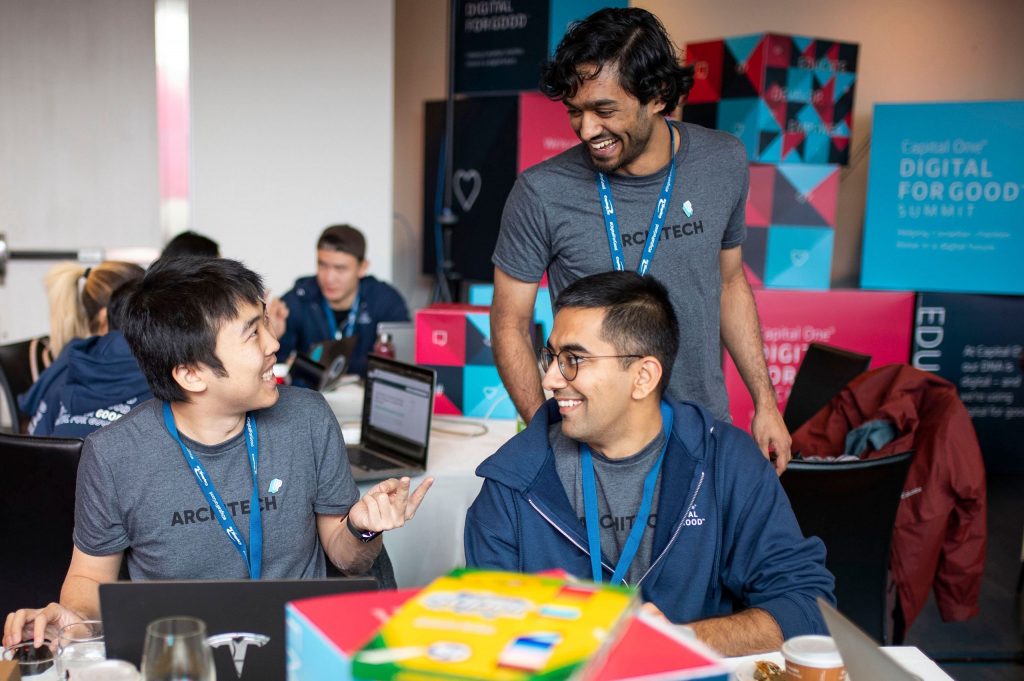 Our Challenge:
An interactive experience that allows donor prospects to put themselves in the shoes of a child who has experienced abuse, neglect, and abandonment and experience their feelings. The goal was to deliver an experience that:
Was relevant to the cause (current Impossible Choices campaign).
Elicit a strong emotional response (empathy).
Drives awareness to "Sign the Pledge" for Stand Up for Kids and drive donations.
Our Process:
Everyday, children across Canada are forced to make impossible choices. The kind of choices that a child should never have to make. Our team had multiple strategy and brainstorming sessions to generate ideas on how we could create an engaging experience that would take the user through a journey while also representing stories with real data.
Content is King –
Our goal was to evaluate the current statistics and sift through the large amounts of data findings and Impact Stories available to us. We were able to have focused time with Helen and Serena (stakeholders from Children's Aid Foundation of Canada) and truly identify the kind of messaging we wanted to convey.
The content available to us came with restrictions. As we wanted to create empathy and "a day in the life" solution, we soon realized we couldn't use children under 18 as our content strategy focus and needed to find a way to communicate real stories around that parameter.
"Impact Stories" are stories of former youth in cares who have grown and developed in their own personal and professional lives and provide insight into how Children's Aid Foundation of Canada changed their lives. This content was extremely powerful, and something we wanted to leverage.
Meg with her brilliant research and content strategy skills worked heavily with Helen and Serena to craft the copy and define the tone of voice.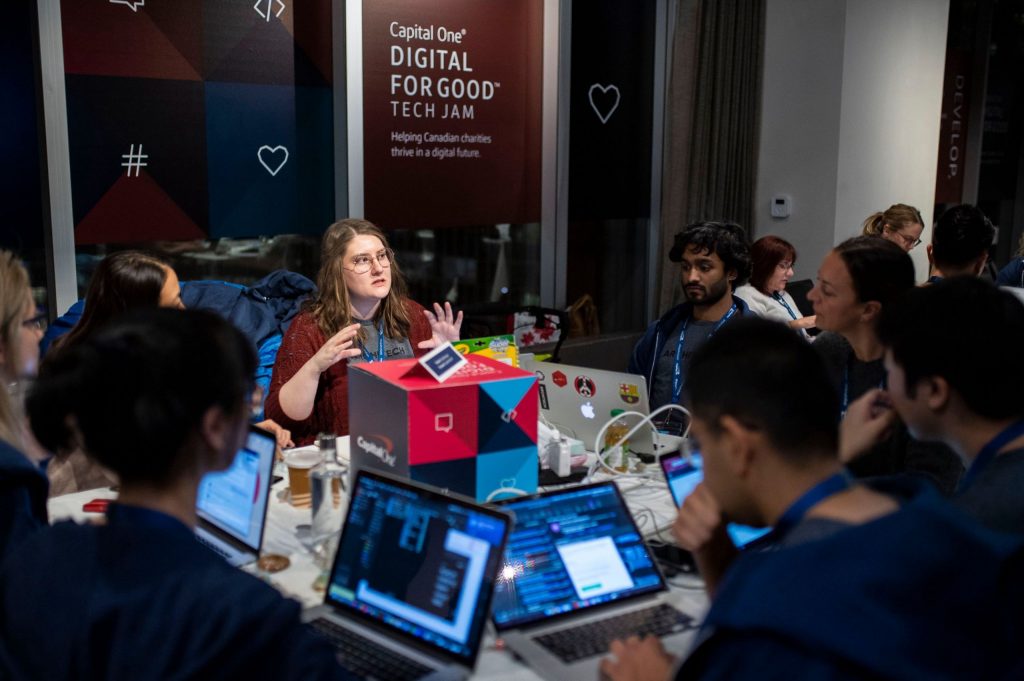 Design: Sketch it out –
With the concept in mind, it was time to start sketching ideas. We wanted to create a user journey that would fulfill all the key touch points discussed.
How might we make Impossible Choices interactive? What are our limitations? What has been successful in the past and what did we learn from the less successful products? These were some of the questions discussed in our internal and stakeholder white-boarding sessions to help lead us on a good path forward to collaborate.
We experimented with multiple directions and landed on creating a gamified inspired experience. We then needed to validate the technical feasibility of our microsite. Our first idea was to create a "Day in the Life" experience where the user would answer a series of questions through the eyes of a child that would continually effect their experience throughout the journey. We also discussed creating a "wellness" meter that would change depending on the choices made by the user. Although good in planning, we felt the journey could take too long to the end goal, and the data/profile of the child would need to be dummy content due to age restrictions
Our revised idea, was to create a story. This would be done through the classic childhood game "Would you Rather" where a user would be presented with one question and depending on the selection, would be taken into a story where a real life person made that specific decision. The story would be told from a former youth in care, as they remark on their struggles and how Children's Aid Foundation of Canada helped them persevere during the hardest parts of their lives.
Design: Bringing it all together –
With the whiteboard sketches, it was time to start visually exploring ideas digitally. After reviewing Children's Aid Foundation of Canada's Google analytics, we were able to identify that the majority of users accessing the main campaign site were by mobile devices. This led us to designing our solution purely mobile-first, in order to focus on a better end to end user experience in the short timeline.
In true hackathon spirit, we took our white-boarded user flows and creative concepts and moved into Sketch to create a lean working style guide, low and high fidelity designs along side development.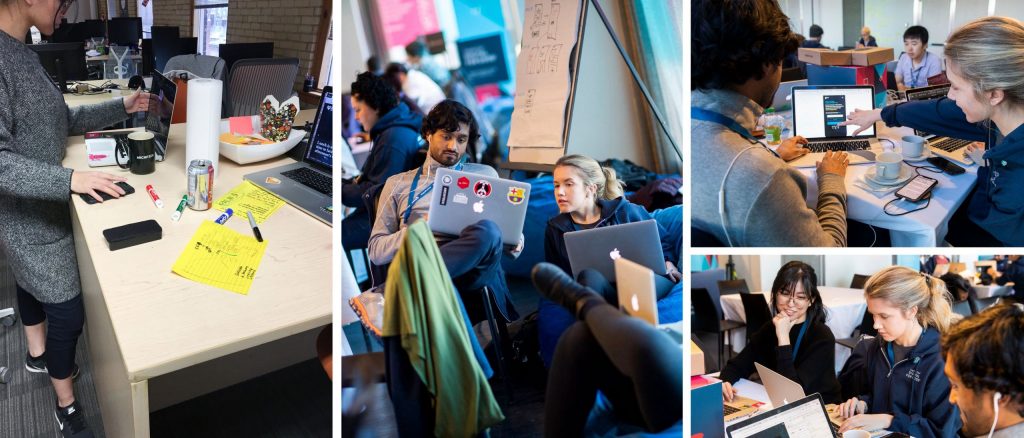 Our Solution:
Putting this all together, our team created an interactive mobile-first web experience that put the user inside the world of a child. This was accomplished by taking the user through a journey of answering "Would you Rather" questions with impossible choices. The kind of choices children across Canada who experience abuse, neglect, and abandonment have to make every day.
Based off the decisions made, the user would be presented with a real-life Impact Story of a former youth in care. They would then learn how the Children's Aid Foundation of Canada helped them push forward and how you can help by signing up for the Stand Up for Kids pledge. The user could also "read another story" to learn about a different former youth in care.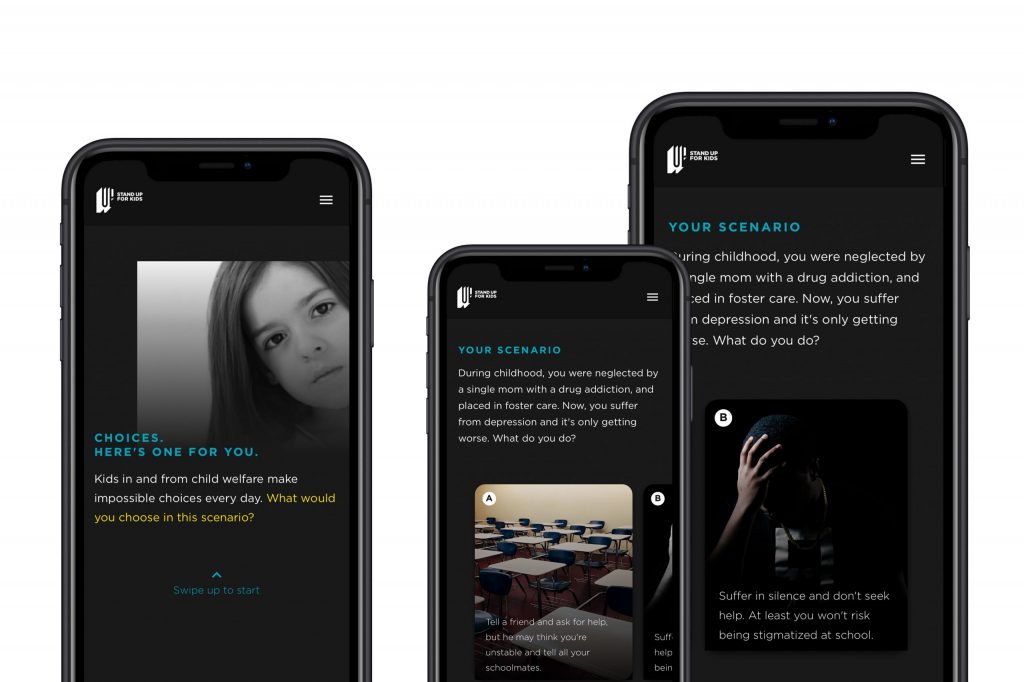 Users would interact with a scrollable web experience to get to different stages of the story timeline.
When a choice is selected, the user would be presented with a real Impact Story subject who had to make the same impossible choice.
The former youth in care subject then highlights how the Children's Aid Foundation of Canada transformed their lives, and how they've grown personally and professionally.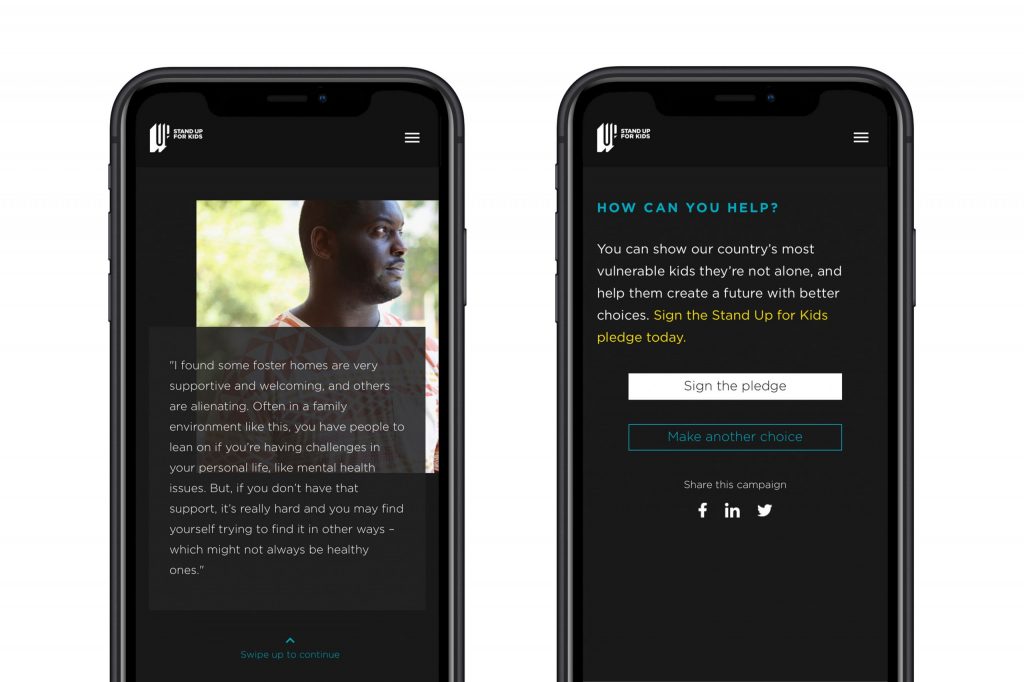 At the end of the experience, the user would be presented with a call to action to drive awareness and "sign the pledge". If desired, the user could also continue and "make another choice" to experience a new story.
Wrap up and Key Takeaways

:
This being my first hackathon, there were a lot of learnings. These were my top three:
Set realistic goals, expectations and future growth plans. Hackathon's are usually no longer than 24–48 hours. Make sure to strategize and plan early with your whole team to make sure you identify priority goals and make a plan collectively to achieve them. You could see your solution as a POC (proof of concept) and get the objectives across with the plan for future development.
Do your homework and ask a lot of questions. Our team had constant communication with the Children's Aid Foundation of Canada. They were always more than happy to answer and discuss. We planned brainstorming and white-boarding sessions, we also created a Teams group chat to talk about ideas and share inspiration. Any prep or ideation you can do before the actual event, will be even better for the end product.
Have an awesome team! I'm lucky to work with such talented and amazing people at Architech that this part was easy for me. Try to assemble a team that balances all the requirements of the brief. Also, anyone can participate in a hackathon. You don't need to just write code. Diverse skillsets and approaches will actually make the outcome that much better!
I'd like to thank Capital One's Digital for Good Tech Jam team for organizing such an amazing event. It was truly inspiring to be apart of.
For anyone who has never done a hackathon and wants to do one, I'd highly recommend Digital for Good. It's super well organized, uplifting, and they take care of you (lots of food ❤️ ) if you have any questions feel free to ask one below!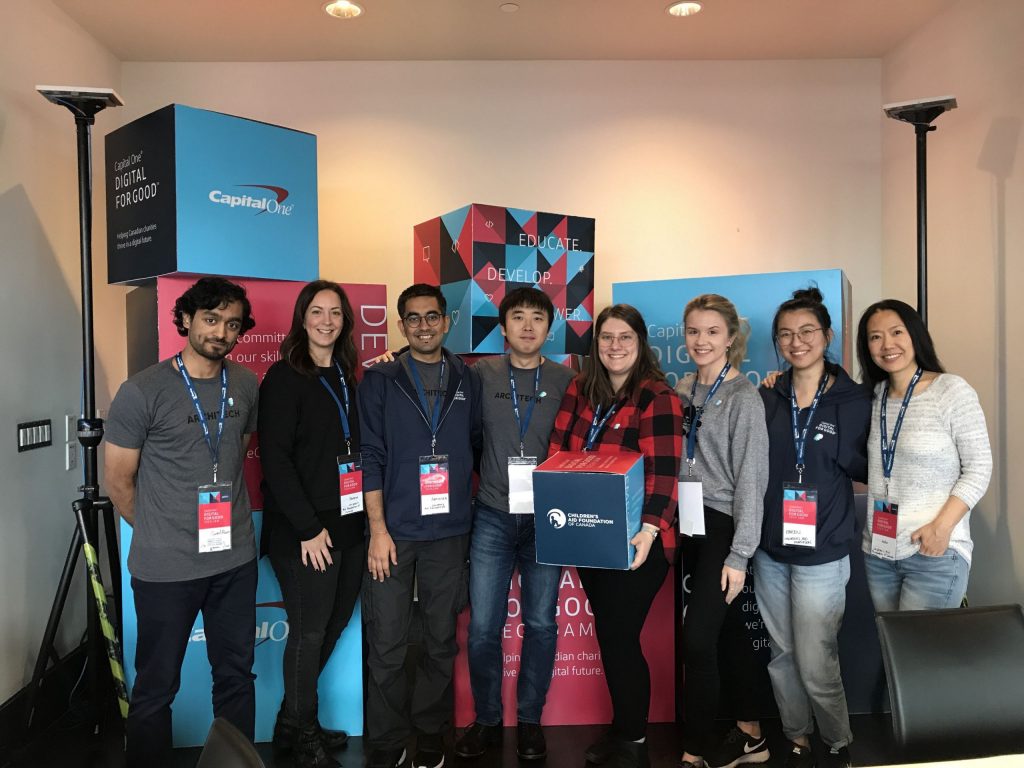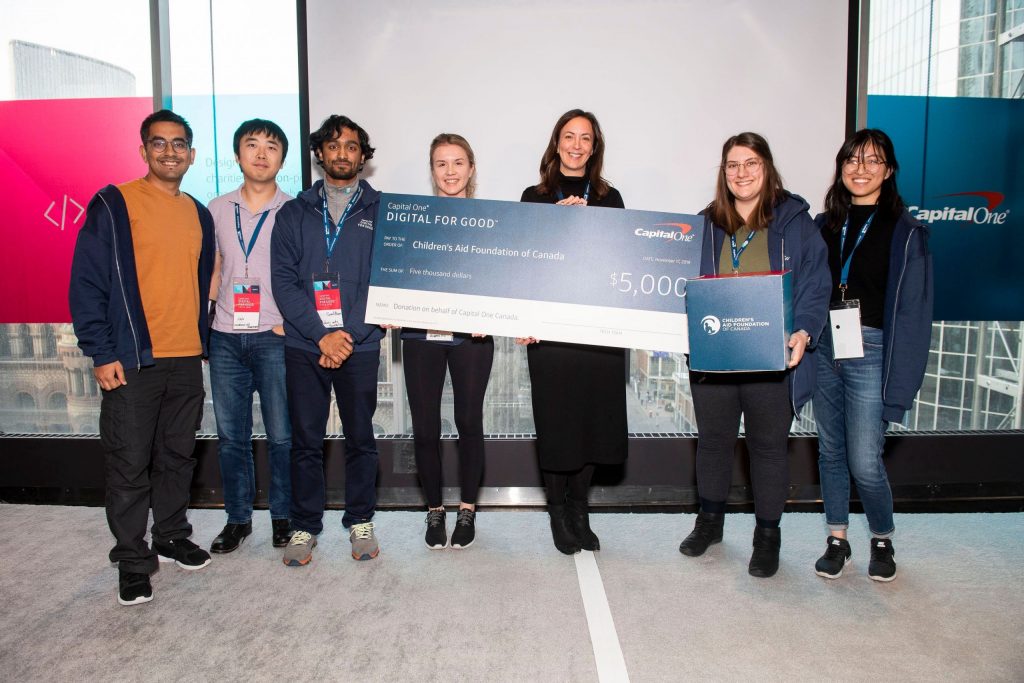 Team and Process Insights