"Motivation comes from working on things we care about. It also comes from working with people we care about." – Sheryl Sandberg
Who You Work with Matters
I'm excited to share that we've launched our new website – our digital home for Architech where you can see our work, learn about who we are, and read about what matters to us and our clients.
You'll see the phrase who you work with matters woven throughout our new site and on all of our marketing material. This phrase came to life during an organic discussion about what we wanted to 'say' through our site. We were trying to define why people want to work with and at Architech. Simply put, it came down to the people and the passion everyone brings to the work we do each day. One of our designers, Molly, mentioned the phrase and it just stuck. Who you work with truly does matter and that was the driving message we wanted to highlight through our new site: that awesome people are behind the digital products we create.
Who you work with matters also functions as an alternative navigation tool, keeping the phrase front and centre: Who = Who We Are, Work = Our Work, Matters = Explore our insights

Who We Are:
We're Architech – a digital product studio that designs and delivers user-centred solutions, up to 87% faster. But what does that mean and who are we exactly?
With our new look, we wanted to showcase the people that make Architech the great place to work that it is. You'll seldom be able to hear a pin drop at our offices – and we wouldn't want it any other way. We believe in being open and collaborating, thinking big, embracing change, doing the right thing, and making every effort to never fail a client.
"Motivation comes from working on things we care about. It also comes from working with people we care about." – Sheryl Sandberg

Our Work:
Design, build, transform – these words are the roadmap for how we work at Architech. We work with our clients to bring their vision to life or help solve problems using a Design Thinking and Agile Engineering methodology. We've co-created with more than 100 companies to successfully deliver more than 300 projects. Take a look at Our Work to see highlights from a few of our clients.

Explore:
Ideas matter – and we take them pretty seriously. That's why we've created a dedicated section on our new website to house articles, upcoming events, and insights straight from the Architech team. We've been exploring topics ranging from Purpose Driven Agile Engineering, to Building and Agile Business, to Monitoring as an Integral Part of Your SDLC, and add to our growing library of content on a weekly basis. (Subscribe to stay up to date with the latest news and views).
While the driving force behind the new website was a brand refresh, we now also have a website that reflects the work we do, the technologies we leverage, the community we're building, and the values that drive us as a digital production studio.
But, in our world of continuous improvement, the work is never really done – we'd love to hear what you think of the new site. Send me an email and let me know!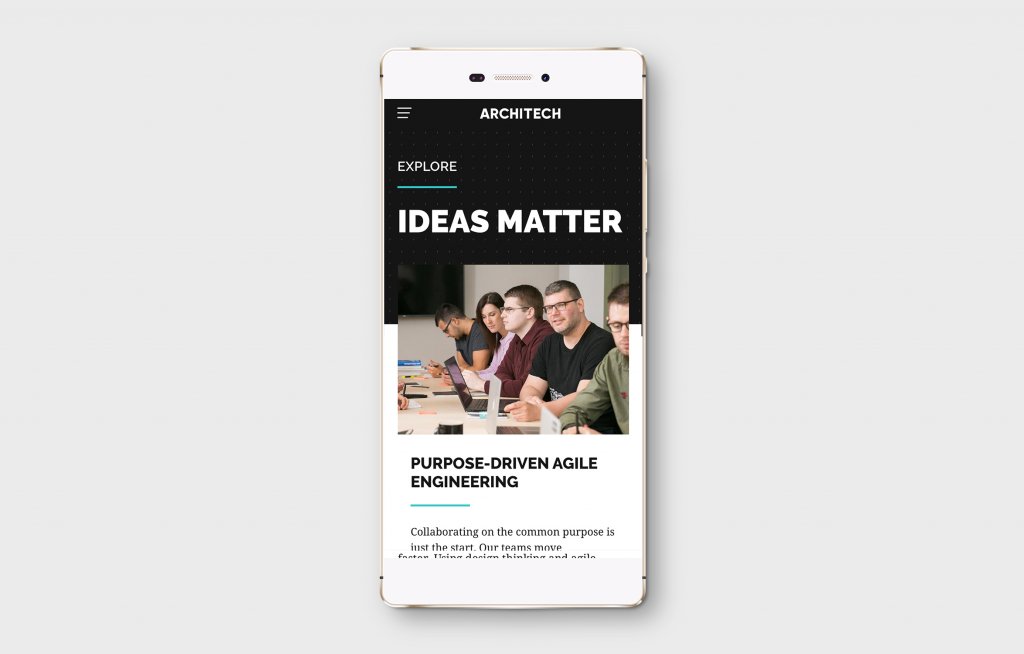 Marketing