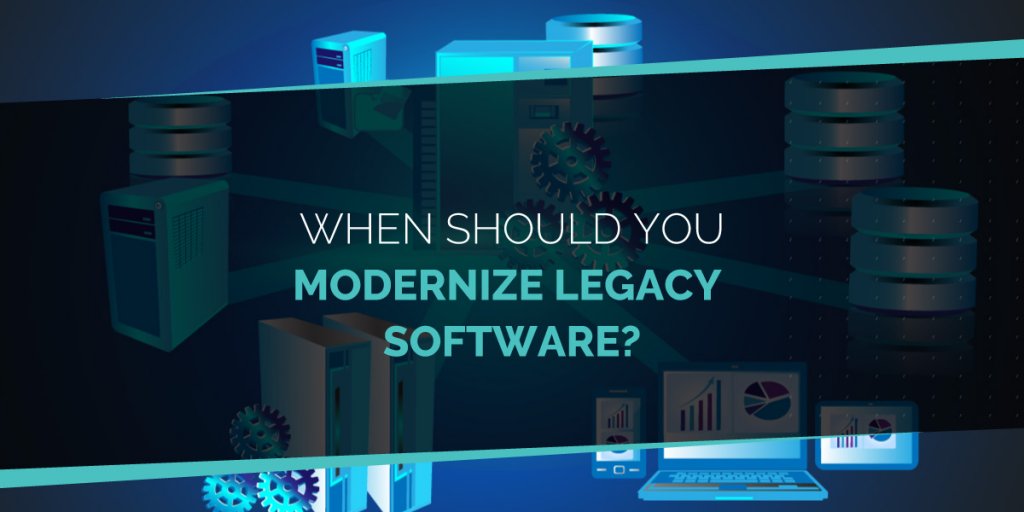 Knowing when to modernize applications is a critical decision for business makers. Software modernization is, after all, an expensive process. Knowing what to modernize, when and how are critical factors for maximizing your return-on-investment (ROI) and avoiding waste.
In our experience, there are…
Four primary triggers for modernizing your legacy applications
1. Cost Overruns
Most businesses want to reduce their costs.
With legacy systems, you have the challenge of supporting obsolete code or systems, which is both inefficient and expensive. Alternatively, you could also have difficulty with keeping enough skilled people to maintain your existing infrastructure.
In addition, moving from CAPEX (capital expenditure) to a manageable OPEX (operational expense) and other cost-reduction measures are now priorities for many businesses.
2. Inflexible Technology/Technical Debt
The second trigger is a technical constraint. Many businesses are looking for ways to accelerate their time-to-market (or delivery speed), conduct rapid experimentation, as well as improve their performance, scalability, and efficiency.
3. Security Threats
Most businesses have limited dedicated IT resources, and less so for managing cybersecurity in-house. With each new calendar year, their dedicated IT resources are increasingly strained by managing legacy systems. As a result, fewer people are available to handle cyber security problems.
However, businesses also consider public cloud providers as more secure, better monitored and more regulated than their own in-house hosting infrastructure. In fact, cloud vendors have large-scale teams of hundreds, sometimes thousands, of dedicated cybersecurity experts whose sole job is to find and fix vulnerabilities in their system.
4. Regulatory Considerations
Although regulatory requirements vary with the location and industry of the business, companies are looking to public cloud hosts to handle these issues. Be it data security, data privacy or other compliance issues, businesses have every incentive to leverage the massive investments public vendors have already made instead of trying to struggle to build their own capacities in-house.
---
See How You Can Lower the Cost of Maintaining Your Legacy Applications
---
Legacy Modernization versus Replacing Legacy Software
Any of the above triggers discussed above could push your company to modernize its legacy applications. However, in certain cases, you might consider replacing those applications with off-the-shelf, software-as-a-service (SaaS) alternatives.
Ultimately, the decision simply depends on the cost of choosing one option over another.
Just as there are benefits, there are many dependencies and risks involved with modernization as well. Instead of modernizing or even replacing the legacy application, you might be better off leaving things as they presently are.
So, how do you make that decision?
It starts with having an objective business case.
For example, when looking at re-architecting, you must ask for a cost-analysis:
Have you determined the exact development cost of the project?
Did you account for the actual cost of this change with regards to labour productivity?
Can you demonstrate efficiency gains and cost-savings?
Finally, what is the value proposition of this modernization project to the customer or end-user of your products and services? Does it accelerate time-to-market? Does it improve quality?
You must have a strong business case for either approach (modernization or replacement) and decide on the basis of whether the project boosts your profits.
How Do You Know if You're Ready to Modernize Your Software?
If you have determined that modernizing your software is the right next step, then you will likely ask, "how do I begin the process?" You will begin with these four steps.
1. Discovery & Assessment of Your Portfolio
Using a comprehensive methodology, you need to conduct an evaluation of your applications, portfolios, migration readiness, and other parameters in business ops, technology, and security.
This assessment will help you measure your readiness, the gaps and risks, and ascertain costs and benefits of the modernization. The assessment will help you decide on proceeding (or not).
2. Prioritize
You must create a baseline of what you require in terms of capabilities and, in turn, develop an actionable roadmap. You have many options, but limited time and resources. So given what you have in terms of funding and human resources, you must prioritize modernizing the applications that will drive the most benefits in the next 12 to 18 months.
---
Struggling to Asses & Prioritize Your Modernization Project?
---
3. Proof-of-Concept
Once you've prioritized what you need, you should proceed gradually. Start by developing a proof-of-concept to see if your modernization project is doable.
Let's say you want to do a Kubernetes containerization project. A proof-of-concept will show you that instead of moving everything directly, it might be better to break it up into smaller modules.
You can discover opportunities — and risks — at the proof-of-concept stage before any serious (and costly) development work is implemented.
4. Stage Implementation
Once you have the proof-of-concept, you can determine what actually needs to be done in order to achieve your goals. For example, instead of proceeding full-steam into development, you can review a prototype within 2-3 weeks for further testing and feasibility testing.
It's best to take small, gradual steps. You should aim to identify the risks and ensure that you're on the right track in terms of implementation. Finally, prioritize your efforts.
Once you complete these steps, you need to return to your organization and see if you have the internal skills and expertise to implement it, or if you need to outsource some of the work. This is something you can also determine in the proof-of-concept stage.
---
Learn More about Legacy Application Modernization:
---
Since 2004, Architech has been supporting Canada's top finance, retail, telecom, and other industry giants with modernizing their legacy applications. We've helped them achieve their long-term cost-reduction and revenue-growth goals.
Contact us today to see how we can help you too!
Murat is a Business Development Manager at Architech and specializes in working with DevOps and cloud-native technologies, such as Kubernetes, PaaS (platform-as-a-service), private clouds and Microservices.
Cloud Native Insights