Bayshore HealthCare
Bayshore HealthCare
Category
Modern Application Development, Product Development, UX Design
Introduction
For people like Jessie Teague, it can be close to midnight when that sudden but important piece of information pops into her head about her mother — something she wants the care team with Bayshore HealthCare to know before they come for their next visit.

As she explains in a video Bayshore HealthCare posted online, however, traditionally she might have had to wait until business hours the following day to convey her message. Being able to log into MyBayshoreCare.ca allows her to share information as well as double-check details about her mother's care at any time.

That's just one of the benefits Bayshore HealthCare has already provided since beginning a pilot project with the portal our team at Architech helped develop. Read on to learn about how we're helping bring new meaning to the organization's slogan, "Bayshore is here for you."
CAPABILITIES
Agile Product Design

User Experience Design

Agile Engineering

Application Modernization
INDUSTRY
Health Care
---
CAPABILITIES
Agile Product Design

User Experience Design

Agile Engineering

Application Modernization
The Customer
With more than 100 locations across the country, Bayshore HealthCare's staff work with patients, families, and other members of their care team within a diverse set of environments. These include clinics, bedside, or even over the phone.

The organization's "Bayshore difference" means it is committed to creating special moments with those it serves to encourage and inspire them — but that's not easy given the diverse needs of its more than 350,000 clients.
The Challenge
The rise of digital technologies offers great potential to streamline processes, facilitate important details about care plans, and more, but most organizations in the healthcare space have turned to "white label" portals from a third-party backend provider.

Bayshore HealthCare wanted to innovate by being among the first to use a set of application programming interfaces (APIs) from a cloud-based home-care software platform in order to develop a customized front-end experience. The portal it envisioned would grant families, caregivers, and practitioners access to ensure better care, as well as remote management of a client's care.

Given the nature of the services it provides, Bayshore HealthCare not only needed a portal that would be delivered on time, but also one that would be managed in a way that mitigated any potential risk.
The Solution
We developed a microservices-based cloud architecture from the ground up for Bayshore HealthCare using technologies such as Angular and Node.js in the backend. MongoDB was used as the database, which ran AWS, and Stripe facilitated payments. Finally, Mulesoft served as the integration technology. The development team was able to work quickly while also offering fully automated deployments using Agile methodology to develop MyBayshoreCare.ca. Everything we did was focused around offering a connected user experience (UX) design and user interface (UI) through a single portal.

While MyBayshoreCare.ca will eventually be offered to all Bayshore Healthcare clients, we kicked things off with a pilot project where the portal was only open to clients associated with its Barrie, Ontario-based facility. With more than 1,000 clients being served there, it represented a great sample size for continuously testing and improving the portal.
The Results
MyBayshoreCare.ca went live in September of 2018, where it has already had a demonstrable impact on the ability of Bayshore HealthCare to deliver the best possible experience for all of its stakeholders. Some of the highlights include:
Innovation Through Voice Assistance, Bridging Communication
The voice assistant component of MyBayshoreCare.ca was built in order to enable better communication between clients and their caregivers. A pilot program will be launching shortly to test the voice integration with a few residents at the Barrie, Ontario location.
Onboarding That Sets Up A Care Team For Success
The work we did on MyBayshoreCare.ca makes it easy to set up an account and profile of a client, including specifics about their care plan, medical history, and more. A calendar feature, meanwhile, allows family members and the care team to have a shared weekly and monthly view of a client's scheduled home care visits, as well as a Caregiver Checklist about the type of care being provided during each visit. This could include companionship, meal prep, or nursing, for example.
Contextual Background That Builds Trust Among Stakeholders
Family members can use the portal to learn more about the people who will make up their loved one's care team. This includes biographies for personal support workers, nurses, and their Care Manager, who they can also contact through MyBayshoreCare.ca.
Facilitating An Ongoing Digital Dialogue About Wellness
It's one thing to know a nurse, PSW, or other care team member is looking after your loved one. It's another to get reporting on the outcome of those visits. Did they stay indoors all day, for example, or did they manage to visit a local library? Wellness updates in MyBayshoreCare.ca gives care team members the ability to not only let families know when visits have been completed, but also about the experience their loved one had.
Knowledge-Sharing That Keeps Everyone On The Same Page
If a PSW shows up to help a client and can't get in because a passcode has changed, it causes immediate challenges for everyone involved. MyBayshoreCare.ca avoids these kinds of miscommunications with a Message Centre, as well as alerts and notifications. Care team members, meanwhile, can offer their own suggestions and recommendations to family members, such as groceries they might need.
E-Commerce Made Easy
The portal we helped develop for Bayshore HealthCare lets clients and family members buy products on the marketplace securely and with ease, leveraging Stripe for payments.
Next Steps
We'll be continuing to develop MyBayshoreCare.ca with a wide array of additional features largely centered around improving communication. From automating service requests and schedule changes, enhanced notifications, and packaging the platform as an application, the digital journey of MyBayshoreCare.ca is going to take the organization further than its clients and team could have ever imagined.

"Architech always comes to the table with good expertise, the right expertise, to solve problems. I consider Architech to be one of the best engineering firms I have worked with in Canada."

– Dheeraj Paul, Director of Digital & Business Transformation
Read our other Case Studies
Rogers

Categories

"Architech had an intense customer focus at Rogers. They became a natural extension of our functional teams and a working-level partner, allowing us to deliver Rogers One Number in a very collaborative mode." – Larry Baziw, Director, Rogers Communications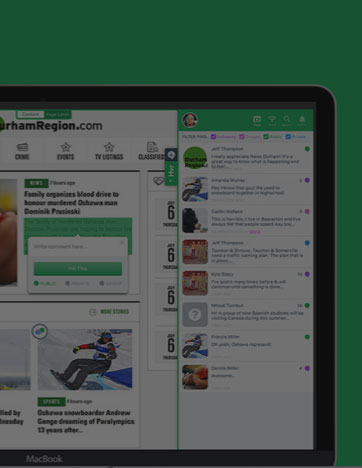 HVR

Categories

"We fundamentally believe that a platform like HVR will be successful in driving new readers back to our platforms... and provide them with a superior experience that they'll want to continue to utilize and re-engage with." - Director, Leading International Digital Agency